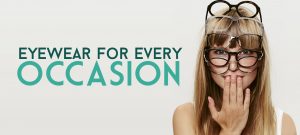 Multiple Pair
Eyeglasses have become a top fashion accessory over the last several years. Celebrities and eyewear companies alike have popularized everything from retro round glasses to vintage Wayfarers. Thanks to this high demand for fashionable glasses, there are more frames for every face shape, style, and budget. With so many choices, it's hard to pick just one! So why not get multiple pairs of eyewear?
Think about all the different outfits you have and occasions where your style totally changes. There are actually a lot of benefits to having multiple pairs of eyewear.
Reasons For Multiple Pairs of Eyewear:
Your business casual office setting needs a professional pair
You want a funky, unique pair for a pop of personality
You need a rimless, sleek look for special occasions
Your outdoor activities require protective or polarized lenses
You need specialty lenses for prolonged computer use
You want a backup pair in case of an emergency
Your hobbies require a lot of close-up work
Remember, when it comes to blending eyewear with your lifestyle, one size usually doesn't fit all! From jeans and a t-shirt to a night out on the town, you can be sure we have the styles of frames to match your every occasion. Schedule an appointment with us today!
Bay City
Mon, Tue, Thur, Fri: 9:00 - 5:00
Wed: 9:00 - 6:00
Closed Saturday & Sunday
Standish
Mon - Thur: 9:00 - 5:00
Doctors available Tuesday & Thursday
Interactive Eye
At Experience Your Eye Specialist, we believe it is important to keep our patients educated about healthy vision. Learn more about the anatomy of your eye with our Interactive Eye!
Learn More